Creating robots with 3D printing
Roboticists, or robot makers, have been constrained by existing off-the-shelf parts, until recently, can now design and print their own parts and shells with affordable or free design tools and the increasingly affordable 3D printers. The so-called next industrial revolution is alive and well with robot makers. As I travel around the USA exploring 3D printing and 3D design, I'm meeting a fair number of entrepreneurs who are building robots, enabled by tools that didn't exist just a few short years ago.
3D, in all its forms, is integral to many, if not all, of their efforts. Philip Walker, from Transcend Robotics, is one such example: He is an entrepreneur building a robot that can climb stairs. But he needed a durable tank tread, a non-marking tread, and when he could not find one; he set out to build his own, and succeeded, with a 3D printer.
Rapid prototype parts that fit your robot
Because robots are a complex assembly of mechanical and electronic parts, it's virtually impossible to design the right part on the first try. With our high-quality 3D printing and quick delivery, you'll be able to very quickly iterate each part of your robot. The process of running tests to optimize your robot's performance and abilities will be far more efficient.
Like many other robot makers, trust our 3D printing service to print your mechanical parts and save time and money while doing so.
Work without constraints to achieve the perfect design
Design complex shapes that are both strong and lightweight, which can't be manufactured by other technologies. This will enable you to use lighter motors and improve battery life.
Save assembly time and reduce the likelihood of parts breaking due to having weak points. Thanks to our online design checking tools, you'll instantly know if it's printable or not.
Even articulated parts can be printed in one piece, which eliminates the assembly, relief angles and welding typically required in mechanical designs.
Start producing small series with ease
Once your prototype is functional, why wait to start selling it? Thanks to our batch control options, you can easily optimize the orientation, layer thickness and organization of your parts in the batch to save money.
 When you have reached the perfect prototype, our Batch Control lets you start production instantaneously no matter how many units you want. If you have an online sales platform, our 3D Printing Cloud Engine (API) can easily power it to automate production according to your sales.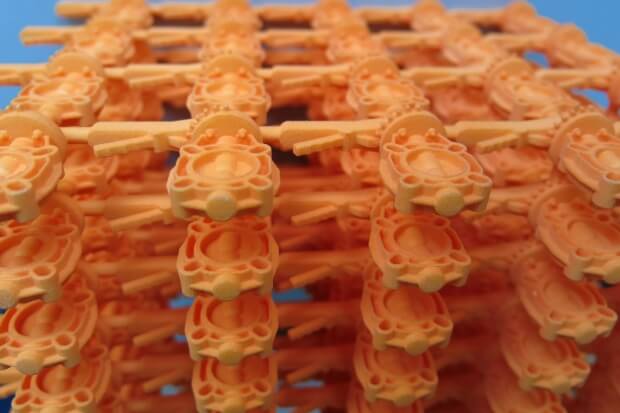 3D Printing Advantages
Industry continuously looks for ways to improve processes, save money and decrease manufacturing and design and development cycle time. Robotics are used in many industries for various applications across the world. NASA uses robots for exploration and they require specific materials that will handle different environments. In education, students in robotics classes build robots using PLA and ABS, but the parts are too brittle and fall apart easily.  Building robots require customizable parts that will be able to withstand abrasion resistance and that use lightweight materials.
Robotics in education are to help students learn how to engineer under complicated situations to develop solutions.
Most robotics used in industry require customization which traditionally been made with CNC.
Even the doctors in medical fields use robots for very precise surgeries that can be program to prior to prevent from shaking. There is much more control with a robotic arm for certain procedures.
Robots can do things that humans cannot, due to specific climates or environments, fine repeatable motions or speed and repetition. Great strides have been made in the last decade to improve what robots can do.  Additive manufacturing techniques can improve the speed and efficacy with which robots are employed and decrease initial setup costs.
High strength plastic and fiber reinforced materials have high strength to weight, toughness, dimensional stability, heat tolerance and abrasion and chemical resistance. These properties are desirable when printing lightweight parts for battlebots or parts for industrial robotics that require strength and lightweight.
Printing parts is less expensive than ordering aluminum custom parts that might be used as robot grips in production lines or assembly lines. Additive technologies and decrease turnaround time and ensure proper fit and functionality thereby decreasing the number of prototype iterations to arrive at a final solution.
It's easier to manufacture parts in-house.  3D printing technology allows for designing parts easier, pausing to make changes and resume printing.  When creating robot grips for example, in some cases specific dimensions are needed. By allowing the option to produce many unique prints at one time, ready in under a day for next day production.
Weight is always a concern in robotics. Lighter parts are easier to move and can reduce inertia to increase speed and efficiency. With carbon fiber reinforced plastics allow strength to match  machined aluminum with reduced weight.