Siemens 3D prints part for nuclear power plant
A nuclear plant in Krško, Slovenia was the site of this major industry milestone. A 108mm diameter impeller, for a fire protection pump, was 3D printed by a team of Siemens' engineering experts and installed successfully. The 3D printed part was a replacement for an older impeller, used in a water pump that provides pressure for the plant's fire protection system.
The largest manufacturing and electronics company in Europe, Siemens announces it has 3D printed a replacement part for a nuclear power plant in Slovenia.
The part was produced for the Krško nuclear power plant in Vrbina, Slovenia. According to Siemens, the power plant provides power for one quarter of Slovenia and 15% of neighboring Croatia.
This is a significant accomplishment not just for Siemens but for the 3D printing industry as a whole because implementing this part required undergoing stringent certification and qualification processes spanning several months. The news further validates  3D printing as an advanced manufacturing technique.
The 3D printed part
The part in question is a metallic impeller for a fire protection pump. The impeller is 108mm in diameter and in constant operation. Krško nuclear power plant has been operational since 1981 with this part, however the impeller is no longer manufactured. The nuclear power plant therefore required Siemens' additive manufacturing expertise to recreate the component.
The 3D print was produced at Siemens additive manufacturing production facility in Finspång, Sweden using Selective Laser Melting. This process involved creating a digital twin of the part before sending the files to the facility in Sweden to 3D print the metal impeller.
Their creation, the metal impeller, was then tested to certify its use in the plant. Siemens used CT scans to validate the part and state that it showed superior properties than its original counterpart.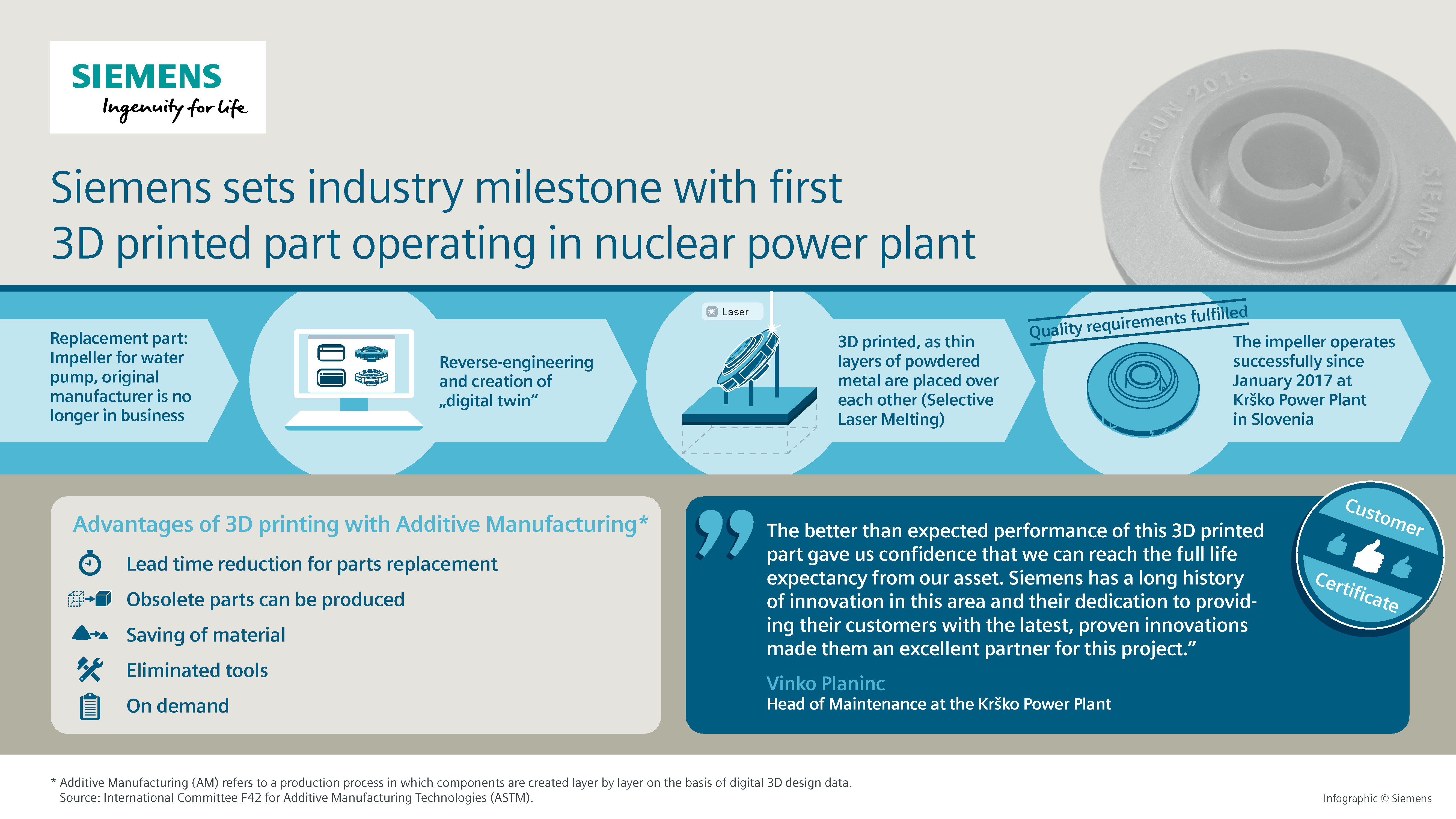 Industrial use of 3D printing 
There is obviously great potential for 3D printing in the industrial world, particularly in creating one-off pieces like this impeller. However, Siemens is also advancing the industrial use of 3D printing in other ways. The German conglomerate recently used their additive manufacturing process to create gas turbine blades.
The plant in Krško provides over a quarter of Slovenia's power and 15 percent of Croatia's and it has been partnered with Siemens for over a decade. Mostly Siemens' work has been for the non-nuclear side, providing service and modifications for the turbine and generator equipment. Research into ways that 3D printing technology can be implemented for production of parts is ongoing.
Siemens is also supporting the implementation of additive manufacturing with their NX software. The company has partnered with a number of 3D printing companies to offer their advanced industrial software. Recent partnerships include working with metal additive manufacturers Trumpf and Belgian software and 3D printing company Materialise. Projects such as these will help adoption of the process, particularly as they showcase the possibilities with implementation of this impeller part.
Siemens' additive manufacturing facility in Finspang has been advancing 3D technology in manufacturing since 2009, and other energy sectors have been benefitting greatly from their innovations. 3D printing parts for gas turbines, for example, offers an approximate 50 percent reduction in lead time and a 75 percent reduction in development time. A power plant in Brno, Czech Republic has been operating since June 2016 with a 3D printed burner component, produced by Siemens, for its gas turbine. This part is the first of its kind in the industry, and it has achieved 1,600 equivalent operating hours without causing any forced outages.